Our story
The AUT Centre for Active Ageing (ACAA) is committed to working with older people to live well, regardless of people's capacities or places of residence. We are focused on enabling diverse, inclusive communities, participation in community and social life, liveable spaces and places, and negotiating health issues.
Working with older people to live well means the team of ACAA researchers will engage with older people to define the research priorities, co-design projects that matter, represent their voices in research, and translate results into community benefits wherever possible.
The ACAA research team includes University researchers from diverse health, sports, and social science disciplines, postgraduate student researchers, as well as research affiliates from other universities, and community members as community affiliates.
Scope of research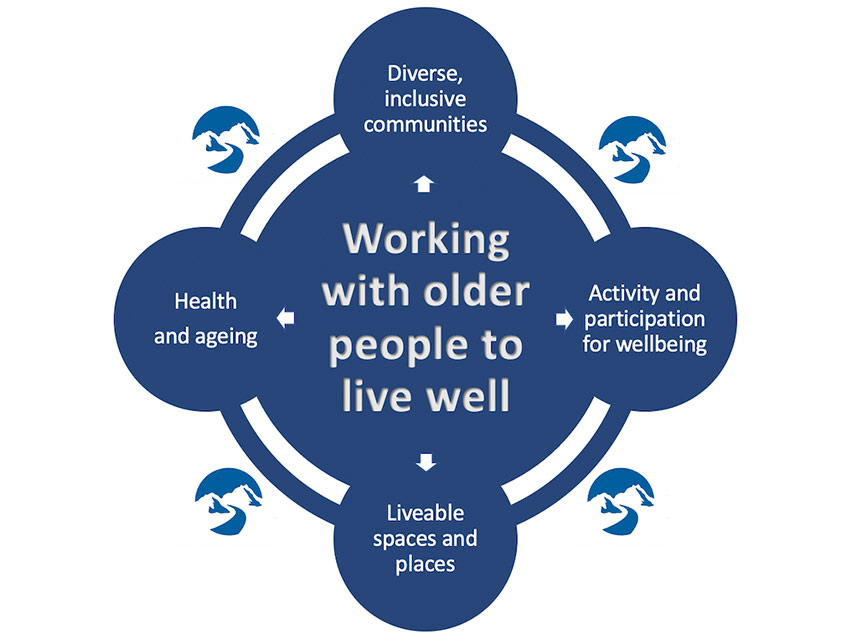 ACAA aims
Co-create research priorities and projects with older adults, communities and organisations
Advance gerontology research methods and theories
Provide quality evaluation of services working with and for older people
Translate research findings into policy and practice, to advance community liveability
Background of the centre
Historically, the ACAA had its inception in 1999 as the Active Ageing Research Cluster, within the Person Centred Research Centre at AUT. From small beginnings, it was established as a Research Group in April 2015 with Valerie Wright-St Clair and Stephen Neville as co-directors. The AUT Centre for Active Ageing was launched on 29 September 2016 as partial recognition of the World Health Organization's International Day of Older Persons 2016.
Our logo
The logo is based on an original design created by Auckland University of Technology art and design student, Hikari Tsukui, as part of an open competition to create a logo for the then Active Ageing Research Cluster.
The mountain as a main visual image is a metaphor for those who are long-lived. Mountains are historically respected in many cultures and also represent a journey a person took or could still take.
This logo is simple in design. The lines, that represent a mountain, are bold and strong giving an energetic look that can emphasise a strong, physical and spiritual wellbeing. The pathway leading towards the back of the mountain represents the journey one can still enjoy. It highlights the purpose of our centre in what we aim to achieve with research on older people's active ageing and participation.